People love to see stories that unfold. This is why typable story experiences are so popular. There are many platforms for creating these tapable stories and now Google has its own version called Google Web Stories.
Google Web Stories: Explained
Google Web Stories are based on AMP technology and are owned by Google. They are immersive full screen experiences that you can host on your own website.
The ability to post them on your own website sets them apart from other story experiences like Instagram or Facebook stories. You can also include links, calls-to-action, and Google AdWords in your Google Web Stories.
Using individual story panels with videos, graphics, and other features, you can share branded narrative that users can click through to experience the story they want to tell.
In addition to being displayed on your website, Google Web Stories can also be viewed in a Google Search, Google Images, or the Google Discover app, available on Apple and Android devices.
When you own your Google Web Stories content, you have the full benefit of taking advantage of SEO opportunities and making the most of this immersive storytelling option.
Examples of great Google Web Stories
Every brand has a story to tell – and Google Web Stories will help you tell yours. Do you need some inspiration to get started? Here are a few examples.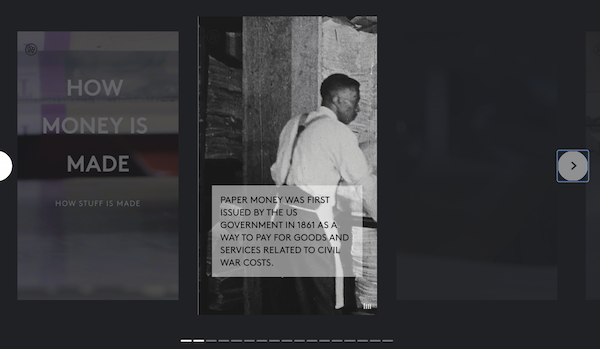 Refinery29 created a series called How Stuff Is Made, including this piece called How Money Is Made. It's the kind of story that sounds pretty boring, but throws in some great copies, videos, and photos, and it's suddenly compelling. You are excited to see what happens next.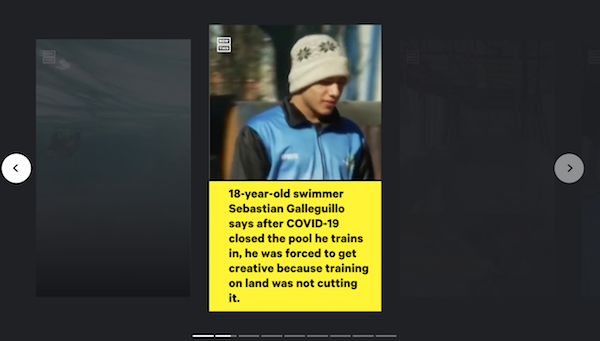 Sometimes the world just needs more good news, and Google Web Stories are a great way to tell heartwarming stories. Brands can take the opportunity to share inspiring and heartwarming stories like NowThis has done with this one. It's a story about a Paralympic swimmer who built his own pool when his training pool closed during the pandemic.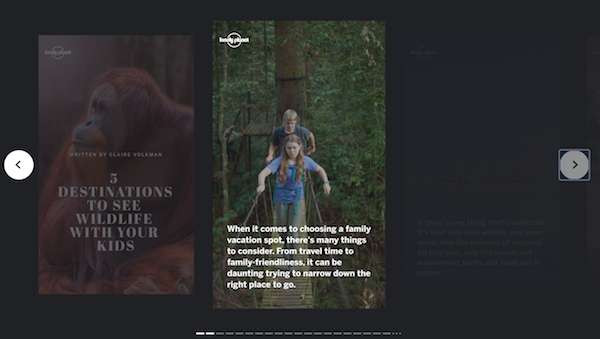 Stories about travel, animals, and children only want to be told in a visual format like Google Web Stories. Lonely Planet featured in this story of wildlife travel with your children.
How to create a Google Web Story
Before creating your first Google Web Story, think about your brand image. What stories should you tell? Harnessing the power of stories can be an interesting way to get people interested in your brand and what you are saying.
Don't forget to take a few minutes first to storyboard your story, whether it's on a white board or on the back of a napkin. Outline your plan and decide how many panels you will need. What graphics or videos must be on each panel? Don't forget your CTA or your ads.
Next, you can start creating your Google Web Stories.
Google Stories are code-heavy. If you have a coding technician on your team, they may be able to create the story for you, but they need to be familiar and familiar with the AMP framework. If you want to explore this route, AMP has plenty of documentation to assist the creators.
If you're not a developer and want to create Google Web Stories for yourself, there are a number of tools you can explore.
Tools for creating Google Web Stories
Knowing that many of its developers are not coding engineers themselves, Google offers a number of third-party suggestions for developing Google Web Stories.
Web Stories from Google Plug-In
Since WordPress built websites make up such a large proportion of websites, we'll start there. With this plug-in you can create Google Web Stories in the CMS of your WordPress website.
Since your WordPress media library is built into your website, it's available to your Google Web Stories. The plug-in offers drag and drop creation and allows you to publish your story directly on your website.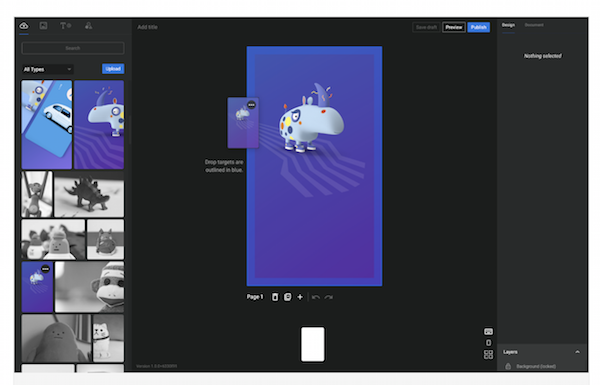 You also have access to templates to help you design. If you have a WordPress website, this may be the most obvious and seamless option, especially if you are already familiar with the content manager.
Newsroom AI
Newsroom AI lets you create Google Web Stories for free with many features available. Even with the free version, you can embed stories on your website and publish your stories on Google. You can use the analytics reporting feature to keep track of how well your stories are performing.
It's easy to create. Just set up an account with your Google Account and click "Create Story".

Newsroom AI offers many different templates to choose from. Grab one to get started. Next you will be taken to the Build page where you can start designing.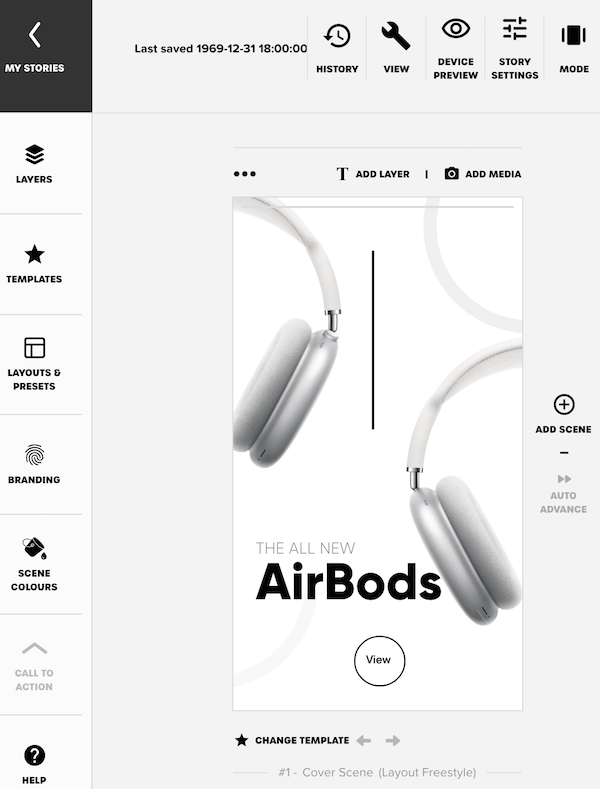 This is where the visual fun begins.
From here, you can modify any page with whatever content you want, including text, photos, and videos. You can also change the template in the middle or choose different layouts and preferences. The design options are as limitless as your story ideas.
If you want to get more out of the experience, you can upgrade to a paid account.
There are several options, but the main thing about paid accounts is that you can take advantage of Google Ads for yourself. This can be worthwhile if you want to make some money off of the content you create.
Another great feature of Newsroom AI is the integration of Getty Images. The free version gives you access to Getty Images' Creative Commons images. This is more convenient so that you don't have to search for images separately.
However, the paid versions give you access to Getty's editorial picture library and Getty videos. If your brand loves history and culture, this can be a benefit to you.
Make stories
Similar to the first two options, Make Stories offers user-friendly features. They have a catalog of free images, icons, icons, and more, and they use a drag-and-drop interface for design. They also have templates to get you started.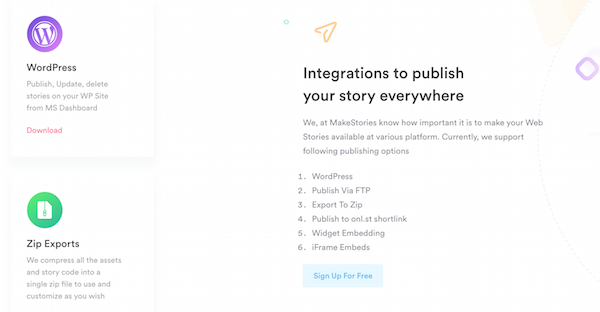 They have WordPress integration, but they also allow you to export any story to a zip file or publish it to your FTP server on your website, as well as use embedding options like iFrame.
If all you want to do is explore a little, this might be the lightweight option that lets you see what it's all about before diving in.
Benefits of Using Google Web Stories
Are you already convinced of the idea of ​​creating Google Web Stories for your brand? If you're still on the fence, let's talk about some of the benefits Google Web Stories can have for your business and why they might be better than some of the social media alternatives.
It's a new way for users to find your website.
Because of Google's powerful search engine capabilities, the ability to display Google Web Stories on Google search pages or in Google images is a compelling reason to create it. It's another aspect to improve your SEO game.
Also, because Google Web Stories is so customizable, you can use links or CTAs that drive traffic to your website.
Content ownership is the main difference between Google Web Stories and social media alternatives. You've created the content with AMP or through a third-party platform so you can do whatever you want with it.
You can embed it in your own website or share it as you like. Think about how you want to use Google Web Stories and how people will find yours. This can also help guide your creative choices. The possibilities are almost limitless and are in your own hands.
They bring impressive experiences to your website.
Whether you've been looking for a way to add shine to your blogging, storytelling on your website, or the look of a full-screen experience, Google Web Stories can add a new dimension to your website.
Both mobile users and desktop viewers can view Google Web Stories in full screen mode, restrict descriptions and help them feel part of your story.
They are fun for your viewers.
Americans spend an average of 5 hours a day on their mobile device. People love to scroll through topics that interest them
To overcome the noise and clutter on the internet, you need to find your niche and share beautiful and dynamic stories to ensure that your audience will want to keep seeing your content.
This may not apply to all, but many developers may find the Google Web Stories creation experience a pleasant one. The various tools we discussed above include drag and drop options that make the designing task intuitive for many. You may find new story ideas and zippy ways to present them all the time.
They enable unique advertising opportunities.
We'll examine this in more detail in a moment. However, you should know that Google Web Stories can be integrated with Google AdWords and other advertising opportunities. Because of their strong SEO ties, this could be a good option for some brands.
Ad opportunities for Google Web Stories
In the past, content creators made money selling ad space. This applies to everyone from a print newspaper to an online news blog. Google Web Stories can use the same concept as programmatic ads.
You can create immersive, engaging stories that include ads that are designed to go well with the rest of your story. Depending on your reason for creating a story, you can add CTA boxes, links to landing pages, and links to product pages.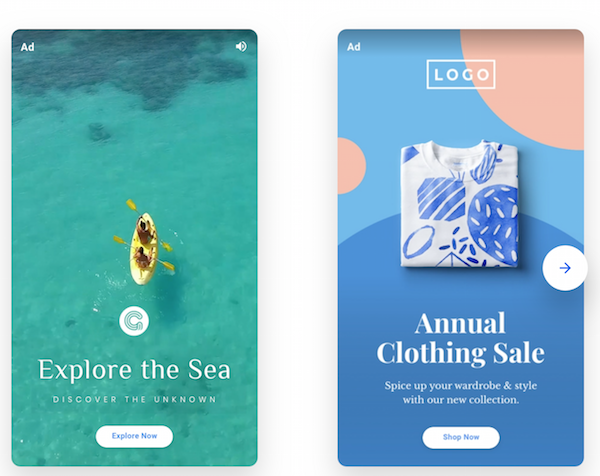 Conclusion
Most brands have stories to tell. Sharing your stories with your followers via Google Web Stories can help improve your online reputation and build trust with your customers.
Your videos can cover everything from corporate culture to new product releases. While it is difficult to write the code to create your own Google Web Story, there are many plug-ins you can use to create it.
If you need any help with your online marketing strategy or execution, let us know! We can help.
What story do you have and are just waiting to be told?